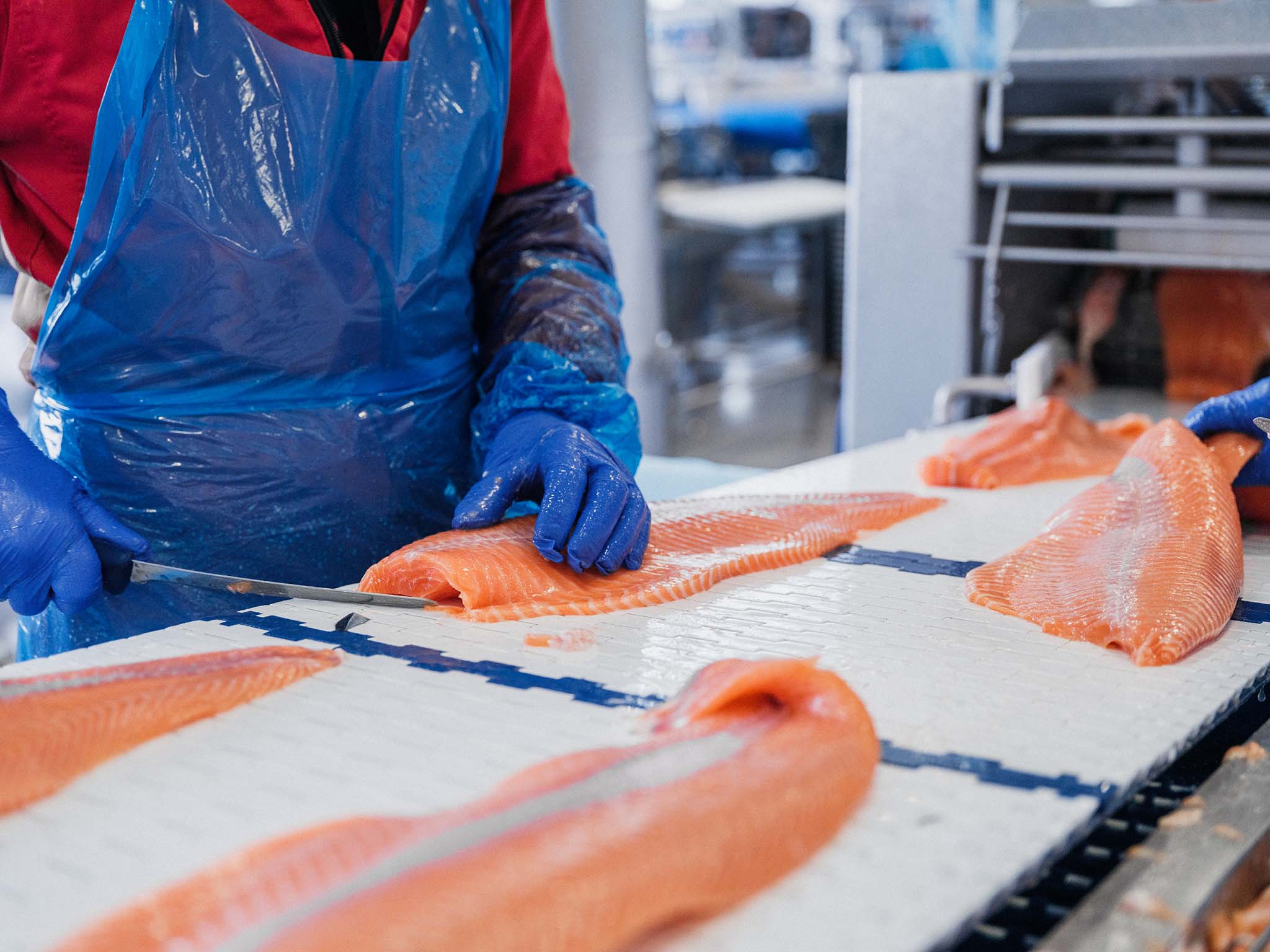 The SalMar culture, shared values, shared culture
SalMar's corporate culture is constantly evolving, and builds on the success factors that have been cultivated within the company since its inception in 1991. Although the company's culture is affected by both external and internal framework conditions, it remains firmly anchored in a few overarching principles, in particular a strong focus on good husbandry, operational efficiency and safe food production.
Having a shared culture and a shared set of values is vital if the company is to be a leading player in the aquaculture industry. Biological production is a continuous process, so if quality is not maintained in all its various phases the consequences can be serious, both in the short and long term.
Overarching all business operations and actions at SalMar is the Group's vision: "Passion for Salmon", meaning all decisions relating to production will be made on the basis of our passion for salmon. The fish will be farmed in conditions most conducive to their wellbeing. We believe that the best biological results will pave the way for the best financial results, and thus safeguard our position as the most cost-effective producer of farmed salmon in the world.
Although SalMar continues to pursue its stated aim of cost leadership, it is moving from a focus on outcomes to a focus on performance. We aim for excellence at all levels and in all aspects of our operation.
A set of tenets have also been created to describe desired behaviours and foster a shared awareness among all employees of how they should act. It is the employees who embody and develop the SalMar culture as it stands at any given time. Their positive attitudes and spirit have always made a substantial contribution to SalMar's success. The SalMar School and daily exposure to the Group's performance-oriented corporate culture provides all members of the workforce with constant stimulation and opportunities to develop themselves.
Our cultural tenets
WHAT WE DO TODAY WE DO BETTER THAN YESTERDAY
To be the most cost-effective salmon producer demands continuous improvement at all stages of the production process. This tenet is about daring to step into the unknown and develop a culture of winning, where performance is both measured and celebrated.
THE JOB IS NOT DONE UNTIL THE PERSON YOU ARE DOING IT FOR IS SATISFIED
This means that we will meet the expectations of others and demand high standards of each other, in accordance with our own SalMar standards. There are many 'suppliers' and 'customers' in the production chain, and it is only by treating each other with mutual respect that we will succeed.
FOCUS ON THE SOLUTION
Everyone who works for SalMar, regardless of position or place, has a duty to help come up with solutions and contribute to improvement processes. We will challenge existing practices and systems, we will jointly implement solutions, and we will talk to, not about, each other.
THE JOB WE DO TODAY IS VITAL TO THE SUCCESS OF US ALL
Although SalMar as a whole numbers more than 1000 people, it is vital to develop personal attitudes and an understanding that what happens is up to me and my function. It is therefore vital that everyone is familiar with our vision, objectives and values, and that we support each other for our common passion for salmon, and on our way to being at all times the lowest-cost supplier of farmed salmon.
WE CARE!
To succeed as a team we must also develop the right attitudes towards, as well as respect and care for salmon, co-workers, customers, business associates and the environment. We must think for ourselves but act with loyalty, and always bear in mind that we are engaged in is food production.
SUSTAINABILITY IN EVERYTHING WE DO
High ethical and moral standards form the basis for developing an even stronger focus on safeguarding the environment that we work in day to day, and that we are the temporary custodians of. We shall not deplete the environment, but ensure that we pass it on unimpaired to the next generation. This is our shared social responsibility, and everything we do must stand up to public scrutiny both today and in the future.